Last night, I was singing and dancing to Daryl Hall's music.   Yes, the fabulous Daryl from Hall & Oats.   We love  Live from Daryl's House.  The show won the 2010 WEBBY Award in the Variety Category. Daryl invites his friends and musical artist and they jam in his engineered recording studio, cook and share memories in his historic home in Amenia, New York.
Live from Daryl's House has featured a mix of well-known performers, as well as newcomers.  Have you noticed all the period details and his blue and white pottery as they enter his home?   I was happy to find images of his house.  Apparently, it was up for sale in 2009.  It is a restored Revolutionary War Georgian Colonial.  The house has museum quality with 24 rooms, 9 fireplaces, indoor pool, 4 guesthouses, pergola and groomed 245+/- acre estate, fields, woods, ponds and Catskills views.
Daryl constructed a rambling 24-room main house.  He combined two historic Georgian style homes, one from 1770 and 1786.  He had them disassembled and  moved from their original locations.  He then had them painstakingly re-constructed as they were originally built on his property.
The two structures were joined by a beamed, barn-like and sparsely furnished great room with a catwalk that wraps around three sides and one of the meandering mansion's 9 fireplaces.  It is approximately 8,400 square feet.
The kitchen features a fireplace for lingering after dinner.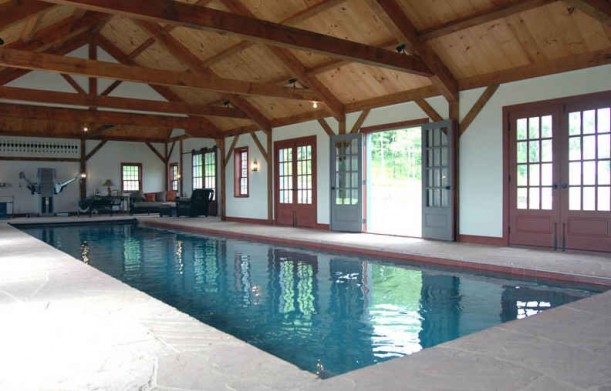 After enjoying the garden and breath taking hillside, this lap pool is perfect for a dip.   I'm putting out there in the universe: Daryl, if you are ever in a mood for a Dominican feast, I'm ready to cook.
Images:
1
/
2 -5